⬇️ Main Note
https://docs.google.com/document/d/1sZMHy4FLlMlizJLtX0S6ww5C3U3ftPuKN5LDTaqVAdc/edit
---
🐋 HTTPS
basic port of https:

443

Certificate is a file, and if the server adjusts this certificate file, it becomes https.
Since the process of certificating is complex, this process is done by GCP.
---
🐋 3-WAY-Handshake
: Connecting Frontend and Backend Server
Frontend sends sync to backend.
➤ Containing the context

"hey can I connect with you backend?"

Then backend receives that synchronization request and also sends synchronization and acknowledgement to frontend server.
➤ Contains the context

"sure"

Frontend resends acknowledgement to backend
➤ Contains the context

"oki I'm connecting right now"
Then while those two servers are linked, the https request can be sent.
➤ No reconnection, able to keep send requests.
When there isn't any request for a while, the the disconnection happens.
➤ When disconnecting, 4-WAY-Handshake happens.
If frontend wants to re-connect with backend, then 3-WAY-Handshake happens again.
---
🐋 Kubernetes Cluster
: Docker manager
Docker= container
Docker-compose = Bunch of containers
Docker-Swarm = Container Orchestration
🔹 Docker Orchestrations
Mesos, Docker-Swarm, Kubernetes, etc
➤ What container orchestration does is something like re-building dead containers
Each computers are connected with network, so docker orchestrations manage docker and its traffics.
➤ At this point, Kubernetes tells which docker is dead and which computer needs more docker.
🔹 Why Kubernetes?
Because we don't operate docker in only one computer.
We distribute multiple dockers in diverse computers, so we should manage them.
Problems while deploying
: Let's suppose that we made a backend-API and did docker-compose up
Infront of backend, DNS exists. If I updated createBoard API, we should re-deploy createBoard API again.
To do so, we should do docker-compose stop to stop the original createBoard API, and do docker-compose up to operate the updated API.
But at this point, when we do docker-compose down, the service will stop.
So to deplpoy without any breakpoints, we need Kubernetes.
---
🐋 Node and POD
🔹 Node
A single computer is called Node, and bunch of nodes are called Cluster.
Master computer : Master Node
Other computers : Worker Node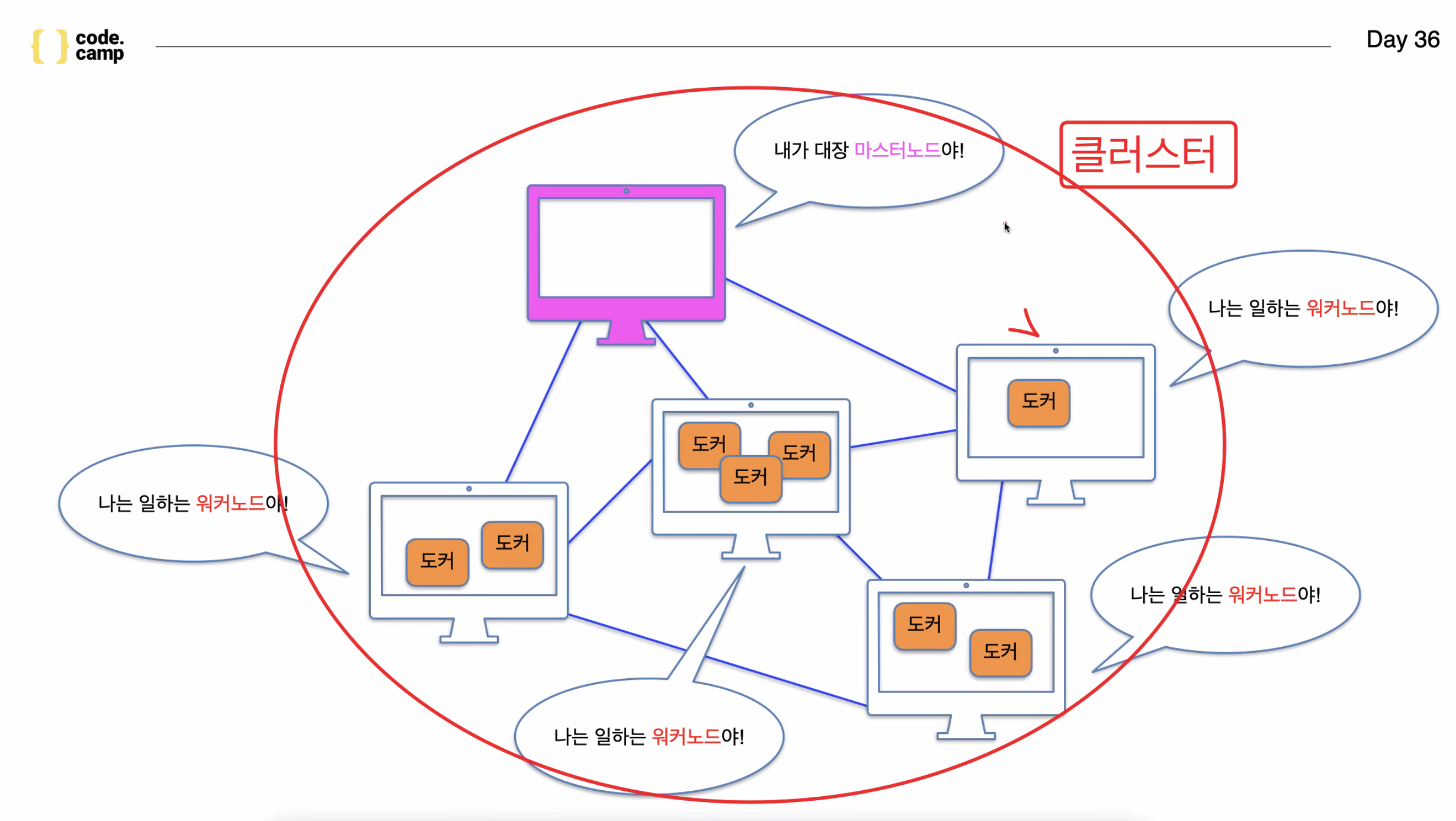 🔹 POD
POD contains docker container so that docker can be operated.
➤ Inserting one docker per one POD is regular. But this isnt's a rule.
If dependency between diverse dockers are strong, then those dockers can be in a group of one POD.
Cluster → Node → POD → Container
---